Bernie Brooks
CEO, Self-employed
Joined: Nov 22nd, 2007
About (request update)
Bernie Mic
The idea behind BA Productions Network came from Bernie Mic's experiences as a student, educator, and musician. In Bernie's elementary school days, he always had to learn by rote—the teacher would tell him the information, he would memorize it, regurgitate it on a test, and then forget it. He never actually understood ways to apply the knowledge he was being fed. It was Bernie's mother who initially introduced him to music in an attempt to keep him away from the grime of the ghetto. At his young age, Bernie was unaware of the impact music would have on his life. The skills that he developed while struggling to become artistically proficient increased his appetite for learning and changed the way he looked at the world. Later in his adult life, Bernie saw the way that music affected him personally, and realized the potential in linking music with kinesthetic learning methods. It was not until he began to add music to his teaching style that he was able to make such a powerful impact on students and felt as if they not only heard the information, but also looked forward to using it.

As a trained musician and an educator, Bernie has had the opportunity to share his acquired strategies with students, musicians, and fellow educators. Through BA Productions Network, he hopes to touch many more people throughout the world. Bernie has made a study out of growing, and has shown that enjoying the process of growing every day is the key to success.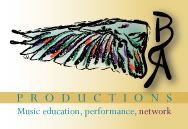 Current Whereabouts:
Chicago, IL
Life & Professional Aspirations:

Vision and Mission
The mission of BA Productions Network is to use music as a catalyst for achieving high academic success in the nation's educational system; to integrate music into all academic subjects for the purpose of engaging and motivating students; to provide alternative methods of teaching and support that can be incorporated into present curricula; and to ensure the success of students by offering educationally enhancing programs that apply specific tools and skills towards achieving each individual's goals.

BA Productions Network is a not-for-profit service-oriented organization that provides specialized programs through collaboration with schools, educators, and communities. BA offers programs that provide services in the areas of performance, education, and networking opportunities. BA's programs focus on the idea that music is a universal tool that can be applied to every aspect of a person's life, including academics, personal goals, emotional control, or career aspirations. Music is also engaging, and engagement is an essential element in a learning environment. BA's goal is to promote the use of music as a tool in education by designing programs and research studies that focus on the kinesthetic learner—one who learns through movement and hands-on activities. BA's programs will link music with all areas of education. These programs will ultimately improve students' grades, standardized test results, classroom behavior, knowledge retention, self esteem, and all-around success levels. By applying these programs and utilizing resources that are already present in the community, BA adds music and performance to produce life-changing results.

For more information, check out http://myspace.com/BAProductionsNetwork.



Become a part of BA. Join our network list today!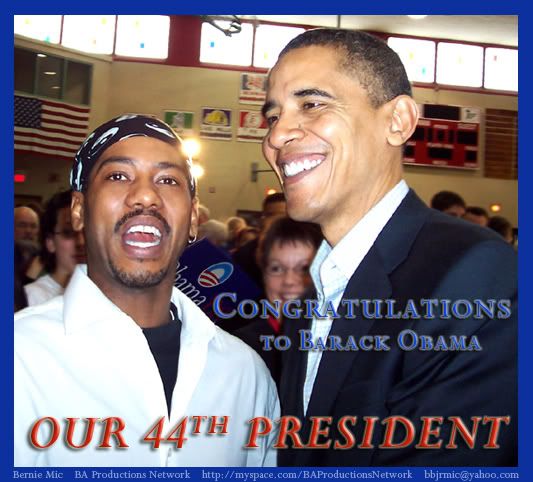 CommuniTEA Jam with Bernie Mic of BA Productions Network
BA Productions Network and Bernie Mic present the CommuniTEA Jam at LooseLeaf Lounge in the Lincoln Park/Lakeview area of Chicago.
BA Productions Network and Bernie Mic present KISS MY JAZZ at B 'n B Restaurant and Bar in downtown Chicago, featuring Grammy-nominated trumpeter, Ron Haynes.
BA Demo
Bernie Mic, of BA Productions Network, hosted a collaboration with neighborhood musicians and businesses, who joined together to create a positive community atmosphere.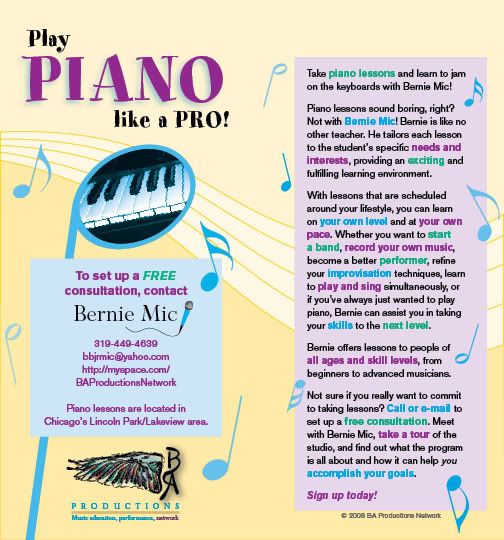 Education (request update)
Claim To Fame:
I'm known for service. I believe that the more you give, the more you will receive. It's all in your attitude, your plan, and persistence.

Most Memorable Moment:
Pledging Phi Beta Sigma!
Winning an international academic award
High School: St. James College Prep in Chicago, IL class of 2014
Activities & Accomplishments:
baseball, basketball, band, choir, dance, badminton, Junior Achievement, graduation speaker
Best Memories:
being chosen to make the graduation speech for the senior class
Guestbook Comments
Nice profile...
Tagged by Elynor Moss on 03/28/2015
Hey I don't even know when you came through on this thing I just happened to stumble back onto this account. But to be honest I haven't really had a chance to use my degree to its full advantage. I was able to use it to teach and be a support staff for families in need. But that was about it. I've actually gone back to school to fulfill my dream which is film. Never heard of NLP. God speed on your endeavors.
Tagged by Emily Olubunmi on 02/23/2013
"Blacologically speaking, I refuse to accept the ideal… that the presence of the Eurological Scholars makes the BlacZchalaz morally incapable of reaching up for the BlacNahlej that forever confronts them." Blacologizt Profesa W.Z. Xrozz, UBZD 11- 14- 02
Tagged by Blacologizt Xrozz, UBZD on 07/02/2011
hello how are you doing?
Tagged by Christena Adkinson on 02/13/2010
are you on face book
Tagged by ASHANTI NICHOLE HAMILTON on 08/12/2009
Hey Bernie. Just passing by to say hello. How's everything? take care!
Tagged by Heather Kollar on 07/22/2009
Bernie, just thought I would say hello. Hope today is a good one! Take care, be blessed and be a blessing!
Tagged by Jenesa Anderson on 07/07/2009
Hello, Bernie. We are mourning the loss of the greatest music/pop star who ever lived -- Michael Jackson. Last night I joined the lottery for tickets to MJJ's memorial service at Staple Center here in Los Angeles. Subject Change - Love the photo with you and our Magnificent President, Barack Obama. We as a people, are so very proud of President Obama, First Lady Michelle Obama and their beautiful family. Subject Change - I love Chicago. I grew up just three hours south of there! ;0>
Tagged by Brenda Bratton on 07/04/2009
Hi Bernie. Thanx for the message. KIT :)
Tagged by Corine morgan on 07/02/2009
Has your city been advertising the Taste of Chicago yet??? I will b there for my 30th B-Day celebration...
Tagged by FAMU Rx on 06/12/2009
showin some dove love, z-phi!
Tagged by melanie harrison on 05/31/2009
Thanks.
Tagged by Kpana Kpoto on 05/17/2009
Hey! I'd like to invite you to join Career Writers Association.... http://www.careerwriters.net CWA is write 4 u! There's something for there everybody! Sun
Tagged by Sun Smith on 01/04/2009
hey bro, how U doing?
Tagged by Hugo Caicedo on 11/26/2008
BA Productions sounds like interesting work. I'm still trying to find the niche for my non-profit which greatly utilizes gospel hip hop. Your profile is inspiring.
Tagged by "Donna Verne" on 11/20/2008
Thanks for all of the messages, Bernie! It's good to see alumni still making a difference OUT in the world! Peace! ~Miss T
Tagged by Rhonda L. Terry on 11/07/2008
Congratulations on winning the contest! Your page is awesome!
Tagged by Jehan Bunch on 09/08/2008
Hello fellow Piscean! Thank you for inviting me. Hope to talk to you in the near future!
Tagged by Aisha Taylor on 08/15/2008
You're awesome!
Tagged by Regina w on 08/10/2008
Thanks for the invite- interesting idea about using music in education. Go for it! Joyce
Tagged by C. Joyce Farrar-Rosemon on 07/24/2008
Thanks your pic is cool to! :]
Tagged by Sarai Lewis on 07/21/2008
Thank you for the comp. Best of luck in your networking and production endeavors. If I'm in Chi-town I'll look you up
Tagged by Tara Butler on 07/19/2008
"Danita"? LOL...that drink must be really strong. But hey, no problem on the friend thing. I can always use more of those. Thanks for stopping by! Don't be a stranger.
Tagged by F. Dana Ellington on 07/18/2008
Thanks for the lovely compliments and for the friend request!
Tagged by Dannelle Walker on 07/18/2008
Thanks for the add!
Tagged by Marta Fernandez on 07/16/2008
u welcome.
Tagged by Anita Brown on 07/14/2008
how u doing Mr..
Tagged by Anita Brown on 07/10/2008
Just showing some Alcornite Love.
Tagged by Sherita Mayes on 07/03/2008
Hey Frat ! Blu' greetings and Blu love !
Tagged by Douglas Clarke on 07/02/2008
hello, how r u?
Tagged by Erika B. on 06/25/2008
thanks hun for the add
Tagged by ashley starling on 06/23/2008
Thanks for the add!
Tagged by Michelle Gibbs on 06/22/2008
thanxx
Tagged by Jelisa Barringer on 06/13/2008
Welcome to the world of educators. We make ALL other professions possible! My goal in life is to be the first Black, first female dean of the mathematics department at Brunswick Community College in Bolivia, NC (my home town).
Tagged by Sherlene Hankins on 06/13/2008
Thank you!
Tagged by Diondra Woodert on 06/12/2008
more-->